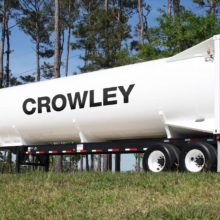 "We are pleased to work with Crowley to support industries in Puerto Rico with the delivery of cost-effective, emission-reducing LNG," said Stephen Cittadine, president of Pivotal. "Pivotal continues to expand its LNG portfolio, thereby reducing dependency on other petroleum products used by Puerto Rico as well as other US territories."
Recently the Federal Energy Regulatory Commission (FERC) issued an order to provide clarity around Pivotal's methods of delivery of LNG from the US mainland to US territories. The FERC order confirms that Pivotal can sell LNG designated to be transported by waterborne vessel to all US territories.
To make this possible, Pivotal will load LNG onto ISO tank containers. The tanks will then be transported via truck to Crowley's vessels in Jacksonville, Fla, and delivered to Carib's customers in Puerto Rico.