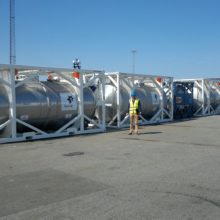 The three 20 ft chemical tanks used a completely new design and will be used to store MEG (Monoethylene Glycol) for Statoil on North Sea Giant for the Asgard Subsea Compression Project
The tanks were part of a larger project with production schedules governed by very strict deadlines provided by IKM Testing which is responsible for managing the fulfilment of all requirements for Norway's Statoil.
Phillip Murphey, director of customer care at Suretank, said: "This project was extremely demanding because of the timeframes involved and the fact that the tanks were a completely new design meant that teamwork was crucial in the successful delivery of the job. Our engineering, customer care and production departments worked closely with IKM Testing to ensure that milestones were achieved on time and we provided regular reporting to assist in their overall project management."
IKM Testing visited Suretank HQ in Dunleer to approve the final job prior to despatch and signed off the final acceptance documentation with zero issues to close out production ahead of delivery.