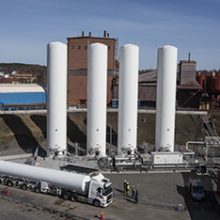 It is the first of five such trailers that will operate between the Lysekil terminal and customer SSAB in Borlange, Sweden, a distance of 420km. The owner and operator, ScanTank Gass AB, will put the remaining trailers into service during spring 2015.
"We are very satisfied with ScanTank Gass' choice of transport equipment for this particular customer. With this solution both the environmental footprint and operational safety are impressively improved, which is a step in the right direction for LNG distribution," said Kenneth Olsen, technical and operations director at Skangass.
The trailers are designed to meet Swedish road regulations.