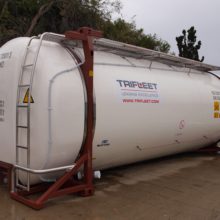 The lessor claims to be the first leasing company to offer these special swaps and over the coming 12 months it will add a total of 45 lightweight swap tank containers; each of which has a volume of 35,000 litres and four sets of the new V-Aerofoil baffle inside.
The swaps have a lower tare weight resulting from a 'smart-designed' robust container frame, which is constructed in such a way that it only adds mass where and when needed for strength and leaves mass out where it is not required. In this way, the tare weight can be reduced by up to 10 percent for a swap body.
The exact weight reduction per swap depends on size and extras. In general, swap tank containers are used as a cost-effective way to transport goods a short distance via road, rail and sea; in particular for light cargoes of chemical and food grade companies in the European market. Interest in swaps is also growing in China and the Middle East.
Compared with standard ISO tank containers, swaps have bigger tanks and therefore more capacity. The new lightweight swaps offer even more pay load, resulting in more volume per transport and lower transport costs per litre.