Finland-based RL-Trans has extended its dry bulk fleet, investing in 20 new units for the carriage of dry materials within its European network.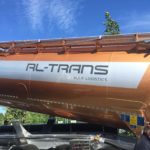 The latest additions to the fleet are 10 new Feldbinder and 10 new Spitzer dry bulk silo semitrailers.
"By increasing our fleet significantly we are answering the increasing demand for our services. This measure was implemented in order to expand the flexibility and availability of our dry bulk fleet", said Andreas Lindedahl, market manager.