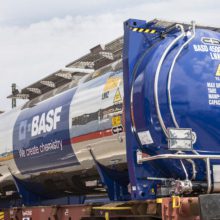 The 20-30ft tanks currently used for combined transport (rail, water and road) formed the basis for the development. The aim was to create a new system that could make conventional rail transport as flexible and fast as combined transport without compromising on the advantages offered by the existing, high-load capacity of conventional rail shipping.
With 63 cbm capacity and a maximum allowable weight of 75 tons, the 45ft tank container has a loading capacity double that of a conventional tank container and comparable to that of a rail tank car.
It uses the same techniques as 20ft and 30ft units. The 45ft tank containers can be used for rail transport, inland waterways and (when empty) also for road transport. They can also be put into container depots for storage. They are equipped with modern insulation techniques and heating systems. The new tank has a higher loading capacity in relation to its own weight compared with the rail tank wagon. Thanks to its properties of being removable from the container wagon and stackable, the 45ft tank requires less infrastructure and offers more flexibility for loading and unloading.
Van Hool and BASF said a significant part of total transport costs in conventional rail tank transport can be saved during the transport between loading site and rail terminal as well as between the terminal and discharge site.