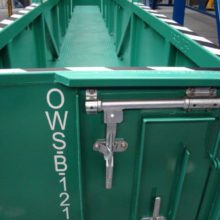 The safety enhanced cargo baskets, engineered at Suretank Netherlands, have had the standard top beam removed and a swinging end door installed. These design features make it easy for operators to gain entry to the basket and have access to the various tools. The process of loading and unloading the basket is also simplified and made safer.
Leon Sol, technical sales engineer, explained: "Normally offshore cargo baskets do not have a swinging end door. This results in additional risks for personnel with the potential to cause injuries by climbing in and out of the baskets. The easy entrance by means of the protected swinging end door reduces risks and prevents injuries."
Bart Schenk, general manager at Suretank Netherlands, said the supplier worked very closely with Odfjell to upgrade the standard basket design and a 3D model was produced in the pre-engineering phase outlining their specific health and safety requirements and features.