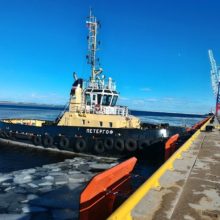 With an increasing number of calls to Port Bronka terminal the management of PORT FLEET CJSC has decided to redeploy its tugboat for continuous operation.
Director General Yevgeny Savkin said: "To reduce ship owners' extra costs it was decided to redeploy the tugboat to Bronka. This will considerably decrease the chargeable time of mooring operations since there is no need to shift the tugboat from the First District of Port Saint Petersburg to Port Bronka and back."
PORT FLEET was founded in November 1997 and performs a considerable part of service operations in the Port of St Petersburg and neighbouring ports of the Russian part of the Gulf of Finland, utilising a fleet of 20 vessels including tugboats, bunkering tankers and oil barges. The company's tugboats have been assisting vessels to moor at Bronka from February 2016.
Alexey Shukletsov, Executive Director of Port Bronka, said: "With the new tug service shipping lines are able to make use of the favourable navigational location of Port Bronka."
The port lies at the south coast of the Gulf of Finland in the area of the dam and Saint Petersburg ring highway connection, and includes a specialist container terminal, Ro-Ro terminal and logistics centre. MSCC Bronka first stage throughput will allow handling of 500,000 TEU of container cargo and 130,000 units of Ro-Ro cargo per year. In future the capacity will be increased up to 1.9 million TEU of container cargo and 260,000 of Ro-Ro cargo annually. With a water depth of 14.4m, the port is able to handle Panamax class container vessels.