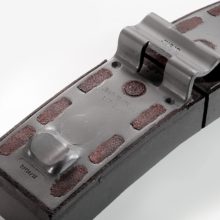 The Jurid 847 LL brake blocks will offer a solution for over 400,000 wagons in Europe in danger of falling foul of EU TSI Noise restrictions. They are interchangeable with the cast iron blocks originally fitted on freight wagons, maintaining the same friction coefficient while reducing noise.
"Jurid 847 is a vital solution provided at a critical time – the new LL block enables almost half a million wagons to remain in active service, when they would have otherwise had operation restrictions or even prohibited entry to some European countries," said Martin Hendricks, President Global Braking and Regional President EMEA, Federal-Mogul Motorparts. "It's a win-win situation. People living close to rail lines are less disturbed by noise emissions and rail operators can extend the life of their existing fleet."
The launch provides an environmentally friendly OE solution to an issue raised when UIC and TSI legislation was announced in 2006. From 2020 the old cast iron block-equipped wagons will not be allowed into Switzerland, but Jurid 847 negates this ruling by meeting the requirements.
"Analysis during an extensive R&D period has led to an optimised block design, which shortens the bedding-in phase to increase efficiency and reduces the level of wheel and block wear while providing a stable friction coefficient," explained Gernot Kasper, Director Global Rail & Industry, Federal-Mogul Motorparts. "Reliable service is crucial for freight operators, and the extended life cycle of wheels and brake blocks using Jurid 847 is a vital competitive advantage, both in terms of dependability and expensive, unscheduled downtime."
The new product is currently undergoing the final approval stages and will complete 60,000 km of rigorous testing before the final certification and commercialisation, which is expected by early 2017.