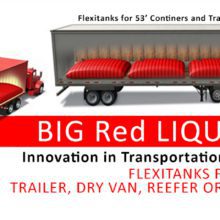 The US-based manufacturer says the free-standing LiquiRide is different from other flexitanks in not relying on standard 20ft shipping containers for transport. Instead, the tanks also work within refrigerated containers (reefers) and refrigerated tractor trailers. This, says EPT, makes it possible to ship juices and other liquids requiring temperature control in a flexitank.
EPT claims LiquiRide is the only flexitank allowed to be used within Maersk's reefers.
The flexitank is designed for easy installation with no bulkhead, and the ability to mix and match commodities. The ability to place more than one flexitank in larger transport units can lead to significant savings in transport costs, EPT claims.
The units are available in sizes ranging from 6,000 to 8,000 litres.