News
Record year for Port of Antwerp
The port of Antwerp has achieved a record freight volume for the fifth straight year in a row. In 2017 the port handled 223,606,610 tonnes of freight, an increase of 4.4% compared with the previous year. Practically all sectors turned in an excellent performance: the container volume expanded in tonnage by 4.3% (123 million tonnes), liquid bulk such as oil derivatives by 5.7% (73.1 million tonnes), and conventional breakbulk such as steel by 4.8% (10.3 million tonnes), while ro/ro completed the growth list with 10.5% (5.1 million tonnes). Only dry bulk such as coal and ores lagged behind in the tables, finishing the year with a drop of 3.7% (12.2 million tonnes).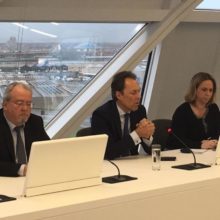 Jacques Vandermeiren, CEO of Antwerp Port Authority, drew positive conclusions: "Finishing the year with such strong growth figures gives us confidence for the future. The port companies too remain firmly convinced of the advantages of Antwerp and the strengths that it has to offer, witness the many investments that we were able to welcome in 2017. In 2018 we seek to build further on the momentum of the previous year. This means that we will take the entire world as the scale for our decisions, with maximum facilitation for our customers as the basis."
Containers
The container volume rose in 2017 by 4.3% in tonnage (to 122,969,409 tonnes) and by 4.1% in terms of the number of standard containers (to 10,450,897 TEU, or twenty-foot equivalent units). The last quarter of 2017 scored best in relative terms for the year as a whole, with growth of 7% (in TEU) compared with the last quarter of the previous year. In addition to that there were three months in 2017 (May, August and October) with an absolute record volume of more than 900,000 TEU.As regards trading routes the most progress was made by North America (up 11.6%), Latin America (up 8.5%) and the Far East (up 7.7%). The USA performed particularly well as a trading partner for Antwerp with 9.7% overall growth in the volume of laden containers, with container imports being up by as much as 10.4%. By contrast in Europe, Antwerp's biggest trading partner, the port lost volume (down by 3.6%), due partly to the loss of imports for transhipment.
Jacques Vandermeiren: "In the coming years too we expect further growth in the container volume, and so in 2018 we will continue to work hard on providing additional container handling capacity in Antwerp."
Breakbulk
The ro/ro volume rose sharply in 2017, up 10.5% to 5,052,403 tonnes. The number of cars handled for its part was up by 4.0% to 1,238,128 units.Conventional breakbulk also made significant progress in comparison with the previous year. At the end of 2017 the figure stood at 10,273,369 tonnes, representing growth of 4.8%. In this segment growth was significantly apparent in imports and exports of iron and steel (up 7.8% to 8,350,565 tonnes). There was spectacular growth in imports of raw iron and steel from India (up 91% to 520,209 tonnes). Imports of steel from countries such as South Korea, Taiwan, Vietnam and closer to home Turkey expanded in 2017 as the result of a better performing steel industry, thus offsetting a sharp dip in imports from China (down 44% to 657,308 tonnes). The latter development was largely due to the anti-dumping measures taken by the EU to curb imports of Chinese steel at below market prices.
Liquid bulk
The volume of liquid bulk topped out in 2017 with growth of 5.7% (to 73,134,912 tonnes). In fact the last quarter of 2017 was the best ever in this segment. The rise in the total volume of liquid bulk was driven by an increase in the amount of crude oil handled, up by no less than 49.9% (to 5,963,279 tonnes). The volume of oil derivatives, accounting for nearly three quarters of the total within this segment, rose once more in 2017 by 3.1%, to 52,939,495 tonnes.
Dry bulk
The dry bulk volume declined last year by 3.7%, down to 12,176,518 tonnes. On the other hand the amount of fertilisers handled – the largest category within dry bulk – increased by 3.7% to 3,734,661 tonnes. The ore volume also experienced strong growth of 12.7%, to 2,385,536 tonnes. At the other end of the spectrum there was an ongoing decline in the volume of coal, down by 54.2% to 477,515 tonnes.
Seagoing ships
A total of 14,223 seagoing ships called at Antwerp in 2017, a decrease of 1.7% compared with the previous year. On the other hand the overall gross tonnage of these ships rose by 1.4%, to 406,762,315 GT.