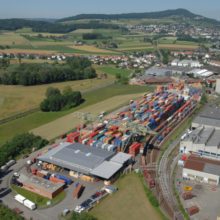 Since the Swissterminal Group reopened its Niederglatt site in the greater area of Zurich in 2017, the company has recorded a growing demand for additional connections, especially from clients around Winterthur, St. Gallen, Chur and Zug. The expanded service frequency between Niederglatt and Frenkendorf and onwards to Antwerp and Rotterdam as well as the new direct link to Melzo offers shippers a wealth of transport options via ports in the West as well as South.
The demand for shipments via ports in the South has been steadily increasing since 2013. This route is an important alternative to bigger ports in the west rather than a replacement, adding to a better risk management for shippers and forwarders. The importance of having different transport options ready in case of need has been illustrated by the Rastatt closure in August 2017 and Niederglatt's introduction of new service connections meets the need for alternative transport options.
On top of the new rail link to Niederglatt, Hannibal will continue to operate between Frenkendorf and Melzo, from which manifold links to Italian sea ports such La Spezia and Genoa and to continental destinations are available.
Niederglatt features a direct link to the Swiss rail system, which means the Swissterminal Group can make an important contribution to saving the environment. "We estimate that a transport volume equivalent to the capacity of 10,000 goods vehicles can be shifted from road to rail. And that applies only to the distance between Basel and Zürich!", explains Roman Mayer, CEO of Swissterminal Group.
Furthermore, the new rail links help to reduce congestion on the roads. Easy access to the A1 and A51 motorways ensures excellent connections for freight transport to neighbouring regions.
"It is the goal of Swissterminal Group to offer Swiss importers and exporters the best solution for shipping their freight via different European ports. Through Niederglatt's new connections, clients in the greater are of Zurich and in the East of Switzerland benefit from a quicker and more reliable service to destinations in the West and South", adds Mayer.
The Swissterminal Group will do its best to maintain neutral and fair competitive conditions for the Swiss market also in the future. "This is not only necessary with reference to the market economy. A decentralised terminal organisation is also an important element in ensuring supply chains all over Switzerland. In this connection it is extremely important for us to be able to offer redundant services to our customers. This applies not only to international transport chains and various options for ports of lading, but it is also essential with regard to risk management on inland routes in order to reduce our vulnerability," Mayer points out.