The specialist for applied digital solutions in logistics, Nexxiot, is launching a new generation of IoT sensors. DiaMedCare AG (Basel) is its new funding partner and is guaranteeing the long-term production of the devices by providing funding amounting to CHF 35 million specifically for these items; this will also include installing them at customers as part of a service agreement. The sensors, known as Globehopper units, enable the raw data that is collected to be transferred to the Nexxiot system. The Globehopper 2.0 units also have a larger device for supplying power and are authorized for use in even more working environments.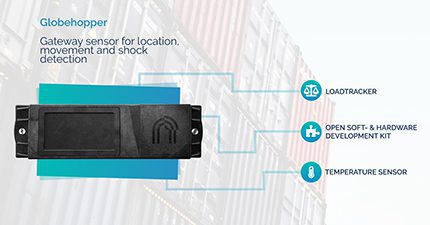 "The current funding places the production of the new generation of Globehopper units on a solid foothold. As a result, we can definitely provide the equipment assets on a broad basis for new customers and therefore continue to press ahead with our growth and product innovations. The funding safeguards the scalability of our business model in the long term and maintains our strategic independence," says Helmut Kaspers, CEO of Nexxiot.
"Nexxiot offers a sophisticated and market-leading technology combined with a convincing business model through its new Globehopper 2.0 sensor systems. We're convinced that the Nexxiot sensor systems offer outstanding value added for the whole logistics sector and we can also significantly accelerate the global growth of Nexxiot during the next few years as its strong funding partner. Nexxiot has huge innovative potential and we're delighted to be supporting Nexxiot with our new, innovative funding solution," says Jörg Schmidt, CFO of DiaMedCare.
Extended range of applications
The new Globehopper generation is certified according to ATEX IIC and IIIC. This means that it is possible to operate the sensors in areas where there is a constant risk of an explosion, for example, when loading and unloading tank containers.
The Globehopper sensor is the so-called gateway device at Nexxiot and it can be attached to goods wagons, for example, in order to record data and send it to the Nexxiot platform. The data is processed and analyzed there and then made available to customers. As a result, it is possible to register shock events or any damage too.
Nexxiot received the Frost & Sullivan Technology Leadership Award in 2019 for developing and using new digital technologies.