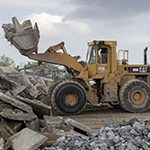 The problem is that traditional materials such as rubber and steel – tough as they are – can become damaged or experience severe wear in contact with a variety of sharp or coarse mining materials. Even traditional liners may not sufficiently protect against damage or abrasion.
Fortunately, innovative material polyurethane (also commonly called urethane) withstands severe impact, puncture, cutting, tearing, and abrasion. The material also has the ability to change shape under heavy load pressure, then return to its original shape once the load is removed.
Vehicle tire puncture resistance
Urethane is increasingly being used to protect mining vehicle off the road (OTR) tires from sidewall puncture or damage due to exposure to rocks, debris, uneven road surfaces, and high bank faces, all the while supporting heavy payloads.
Because the environment in which heavy-duty mine vehicles operate is severe, even on the toughest of tires, an innovative urethane protector has been developed that reduces the risk of sidewall punctures on OTR tires.
A Michigan-based firm, Argonics, which specializes in high-performance, urethane-based elastomers has developed this sidewall protection. Their sidewall protector uses a proprietary urethane formulation called Kryptane, which was engineered for extreme wear conditions involving impact, abrasion, or sliding.
Conveyor abrasion resistance
Urethane's outstanding abrasion resistance is often used to combat severe wear in mining conveyors. In such applications, it withstands abrasive ore, sand, and gravel moving through the conveyor, which can cut and abrade both the steel materials inside, as well as typical rubber skirtings outside that are designed to prevent dust and spillage at transfer points.
"Rubber is not as abrasion resistant as urethane, and fancy steel liners do not provide sufficient resistance either," says Charles Pratt, Operations Manager at Kinder Australia, an independent supplier and manufacturer of conveyor and bulk material handling equipment.
"In testing for some mining applications, we found that the urethane skirtings on the outside of a conveyor can last 10-15 times longer than rubber," says Pratt. "Compared to a steel liner on the inside of a conveyor, a urethane liner can get 5-8 times the life."
Material handling equipment that withstands extreme wear
Mine and quarry bulk handling equipment – such as batchers, bins, chutes, drums, hoppers, turn-heads, dump cones, and belt cleaners – can experience severe wear in contact with a variety of coarse materials, particularly at "hot spots" where excessive abrasion occurs.
For such applications, sheets made from urethane provide far better wear resistance than more traditional options such as rubber or steel (both AR400 and AR450 plate). Because urethanes also offer significantly less friction than rubber, this not only helps to reduce wear in contact with rough materials, but also improves equipment cleanability, which enhances productivity.
This "tougher than steel" liner can be made even more durable with embedded ceramic tiles. It can also be cut from full sheets of various sizes to fit the contours and shapes of high contact areas, so it can easily be welded or bolted to provide extreme wear protection wherever it is required.
Urethane with embedded ceramics can be optimized to resist not only sliding abrasion, but also impact, or various combinations of the two. This approach can last up to 10 times longer than steel or rubber alone, and up to 4 times longer than urethane alone.
Adaptable properties tailored to the application
Because urethane's properties are customizable over wide ranges of hardness, resilience, spring rate and dynamic properties, its versatility offers custom mining solutions to difficult design challenges.
Hardness, for instance, is readily adaptable. While most rubbers have a hardness that is typically found between 30 and 80 on the Shore A scale, and structural plastics begin at 55 on the D scale, some urethanes bridge the rubber-plastic hardness range. One proprietary urethane, for instance, offers a wide range of formulations from a 52 shore A to a 70 Shore D to suit a variety of applications.
According to Boyle, urethane is also often used to provide a high degree of resilience. This can be done over a long, slow extension or a very quick impact. The material can also be formulated to dissipate the maximum amount of energy, when it is necessary to cushion an object.
While mine operators are accustomed to traditional materials like rubber and steel, utilizing the superior qualities of urethane for a variety of applications ranging from OTR tire protectors to liners will help to improve safety, productivity, and profit while significantly reducing downtime and premature replacement.