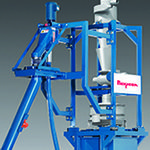 Fed by a pneumatic conveying line, the system is equipped with an integral cyclone that separates incoming solids from the air stream. A rotary airlock isolates the pneumatic system from atmospheric pressure and meters material into a vibratory sifter that discharges on-size particles into a surge hopper.
With extended vertical sides, the surge hopper stores up to 540 litres of material, enabling the system's flexible screw conveyor to dispense material when needed, while reducing the number of on-off cycles required for the independent pneumatic delivery system to replenish the hopper with material.
The enclosed 3-metre conveyor can handle a broad range of free-flowing and non-free-flowing bulk materials, from large particles to fine powders, including products that pack and seize, with no separation of blends.
As the metering screw rotates, it self-centres within the conveyor tube, providing constant clearance between itself and the tube wall, minimising degradation of the material and wear of the screw and tube. Since the screw is the only moving part contacting material, maintenance is greatly simplified.
The system is also offered with integral crushing or grinding equipment for the reduction of over-sized masses received from upstream sources.
The hopper's asymmetrical pyramid design with steep side and back walls promotes flow to the charging adapter, while a vent port on the hopper lid provides a connection point for static or vacuum dust containment options.