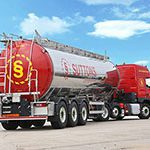 Suttons, a market leader in the logistics sector for bulk gas distribution, will move the hydrogen, produced by Ryse Hydrogen in Runcorn, to the capital where Transport For London will be operating 20 hydrogen powered double-decker buses later this year.
Suttons' national network of strategically positioned sites, reputation for class-leading levels of safety and the comprehensive engineering and technical support were key factors in being awarded the contract.
The contract will be going live at the end of September with a phased transport solution leading to a day and night time operation once the capital's fleet is fully operational.
Jo Bamford, who founded the green hydrogen production company, and acquired Northern Ireland bus manufacturer Wrightbus last year, has a vision, 3,000 hydrogen buses – about 10% of the UK's total fleet – to UK towns and cities by 2024.
These vehicles will release only water vapour and save an estimated 280,000 tons of carbon dioxide each year, the equivalent of taking roughly 107,000 cars off the road a year.
Wrightbus will be introducing fleets of state-of-the-art buses later this year in other areas such as Aberdeen, Belfast and Dublin, as well as London. There are also advanced conversations taking place with relevant authorities in Birmingham, Liverpool, Manchester, Brighton, Glasgow and Edinburgh.
Jo Bamford, CEO of Ryse Hydrogen, said; "This is a hugely important step forward in kick-starting the hydrogen economy in the UK. In order for us to get these buses running on UK streets we need to be able to transport the hydrogen from the production sites to the areas it is needed.
"Suttons will transport the hydrogen from the North West to London, where hydrogen buses will start running.
"Suttons Tankers are a reputable logistics provider of bulk gas which made them the obvious partner of choice.
"We look forward to working with Suttons on this contract and are proud to be supporting the capital in its efforts to reduce its emissions."
Michael Cundy, Managing Director of Suttons Tankers, said; "We are thrilled to be awarded this contract with Ryse Hydrogen which represents a significant move in TfL's pledge to offer more sustainable modes of transport.
"This will demonstrate to the wider public transport sector the practical and environmental benefits of hydrogen fuelled technology.
"This work with Ryse Hydrogen builds upon our strategy of delivering service excellence and our ability to add value to our customers through providing more than just a haulage solution."