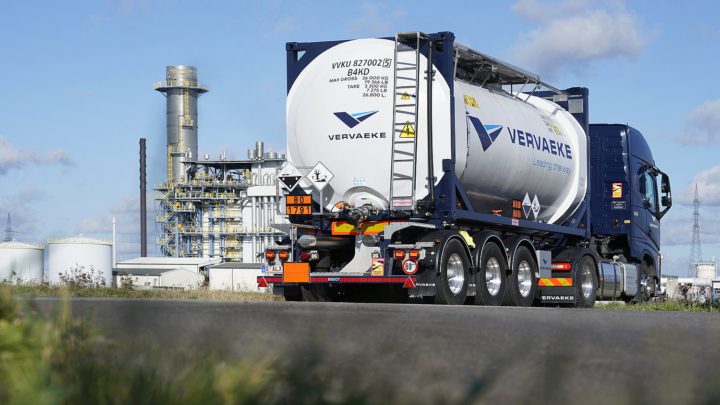 However, due to the high corrosivity of chlorine-containing products, the rubber lining becomes corroded, so any change of product can endanger the quality of the next. In addition, the repair or replacement of this type of lining is very labour-intensive, resulting in rapidly rising costs.
Vervaeke therefore started looking for a solution to carry out the transport of chlorinated products in the safest and most cost-efficient conditions. After much R&D and in collaboration with an external partner, Vervaeke commissioned the construction of a new tank capable of transporting the most aggressive chlorine-containing products.
Constructed around a seamless plastic liner, the tank has very high chemical resistance. Since it is made of composite material, it is also lighter than a rubber-lined tank and so can carry more payload. This new technology also makes it possible to switch from one product to another safely and quickly, without compromising quality.
Vervaeke has signed an exclusivity contract with the manufacturer of these composite tanks and already has a number of them in use. The company is also the 'privileged' partner for maintenance and repair of this type of equipment.
Going hydrogen!
In another move, Vervaeke has ordered its first hydrogen-powered fuel cell electric truck. This zero emission truck stands for 100 percent CO2 neutral transport.
Hydrogen is expected to play an important role in decarbonising hard-to-abate sectors like steelmaking, chemicals and transport. The EU estimates that up to 24 percent of energy use could be hydrogen-based in 2050. And although electric cars are set to dominate the market for private vehicles, hydrogen is still expected to play a key role in decarbonising heavy duty road transport.
As the new truck emits only water vapour instead of carbon emissions, it stands for zero emission. Moreover, it allows quick acceleration which means safe merging and manoeuvring, while a smooth and near-silent ride let drivers focus on the road and create an important decrease in noise pollution.
The investment is in line with the quest for sustainable transport with Vervaeke working in close partnership with one of its largest customers. It comes on top of Vervaeke's continuous investments in the most modern equipment, the most efficient engines, partnerships with customers in environmentally friendly projects and well-trained drivers.
Furthermore, this project will allow Vervaeke to acquire important experience and knowledge about the use of hydrogen technology. The firm's intention is to train its technicians in this specific technology to enable them to execute the maintenance of its own fleet, as Vervaeke has always done, and still does. Vervaeke is also promoting the use of the H2 technology for ADR approval at the UN level.
The first truck will be delivered in the first half of 2023.
New managing director
Vervaeke has appointed Serge De Wolf as managing director for the company in Belgium, including France and Luxembourg.
With a career as managing director and CEO at other leading transport companies, De Wolf has also been chairman of the ADR Commission in Belgium and chairman of the logistics working group of the Belgian Association of Chemical Distributors.
"I am convinced that, thanks to his extensive sector-related experience and his people skills, Serge De Wolf is the perfect man to help lead Vervaeke on its way to an even stronger position as a reliable employer and partner and as a pioneer in sustainable entrepreneurship," said Frederic Derumeaux, CEO at Vervaeke.
"In the current economic climate, where there is some uncertainty, it is important to be attentive to opportunities and to adapt quickly. In addition, our sector faces some considerable challenges, both in terms of retaining and attracting competent staff and in terms of innovation and sustainability.
"The arrival of Serge will also allow me to take up specific challenges and projects that will further strengthen the Vervaeke group and ensure it is future-proof."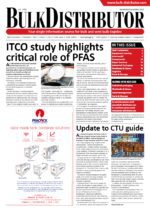 This article originally appeared in the November/December 2022 issue of Bulk Distributor.
view magazine