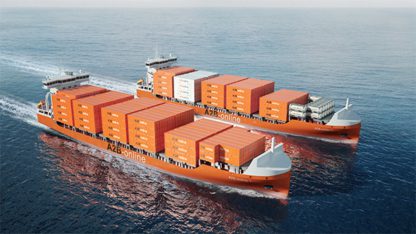 The company said the new vessels have been designed with sustainability in mind, and that they will be equipped with the latest technologies to reduce CO2 emissions significantly by up to 95%.
The vessels will have a multi-fuel methanol propulsion system, shore power and battery capacity to operate emission-free during port and inland water operations, the company added.
A2B-online said it has undertaken the construction of the two newbuilds as it prepares its fleet for the future. 
The company, which operates seven container vessels, is implementing a fleet revitalisation programme with an eye on the long-term. As it replaces its older tonnage, A2B-online has chosen to construct new vessels with a keen focus on sustainable performance.
A key feature of the new vessels is their optimised efficiency, according to A2B-online. The increased size of the cargo hold relative to A2B-online's existing vessels offers double capacity without the requirement to increase the overall length of the vessel significantly.
A2B-online added it has developed the vessels together with Hamburg-based design and engineering company Technolog Services. The company provides design, engineering and consultancy services to its clients and has been involved with this innovative project since the outset.
Currently under construction at the leading Sedef Shipyard in Turkey, the vessels are expected to be in service by the end of 2024, operating between Moerdijk in the Netherlands and Immingham, UK.
Dinant de Jong, CEO of A2B-online said, "With our new vessels we will contribute to a more sustainable future and demonstrate that it is possible to combine freight transport and environmentally conscious operations. We want to take this opportunity to express our gratitude to all of our customers, suppliers, shareholders and stakeholders for their support and loyalty. Without your trust in us, this achievement would not have been possible."