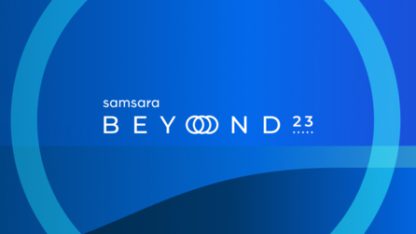 The digital-first tools were showcased by the company at its Beyond conference, which ran from 21-23 June in Austin, Texas. Beyond is one of the largest gatherings of industry leaders across physical operations – a wide range of industries all powered by frontline workforces that are integral to the global economy's running.
Virtual Coach a new coaching aid that reaches drivers when and where they needed, is one of the tools that was unveiled. Another was Mobile Experience Management, which the company described as a lifeline for workers in the field to get help from the back office. This empowers employees with personalised, connected and integrated experiences to help them operate more safely and efficiently, according to Samsara.
"We have had tremendous momentum as our AI-powered platform drives real business impact for our customers," said Sanjit Biswas, CEO and co-founder of Samsara. "Our customers' frontline workers keep the world running – from the construction crews and field service technicians, to loading dock workers and truck drivers. With ongoing labour shortages and the next generation of the workforce demanding digital tools, we are helping make these jobs easier, safer and more efficient. The next wave of digital transformation is happening now."
Serving tens of thousands of organisations across North America and Europe, Samsara's customer base crosses a diverse set of industries and includes many of the world's biggest construction, transportation, waste management and wholesale and retail companies.
Samsara's Connected Operations™ Cloud is already contributing dramatic improvements to workers in these industries – using AI to prevent over 120,000 crashes in 2022 alone, and digitising more than 23 million documents to save thousands of hours of paperwork, according to the firm.
Some more of Samsara's new innovations include Smart Trailer and Asset Tracking solutions. The company said powerful insights from trailers and assets – such as utilisation, temperature and location – are hard to act upon when they live in siloed systems.
With next-generation Asset Gateways, Samsara said it can connect and extend this visibility to drive better outcomes. The new Find My Asset feature allows managers to quickly find lost or stolen high-value unpowered assets – saving substantial time and money, it said.
In addition, a new two-way cloud integration with Thermo King's TracKing® Telematics makes it possible for customers to not only monitor, but remotely control, their Thermo King reefers from the Samsara dashboard.
Another innovation is Data Connectors. According to the organisation, driving better business outcomes is challenging when data lives in separate, third-party platforms that aren't able to work together. With new data connectors including Fivetran, Kafka, and Power BI, Samsara data is easily streamed to power business applications and workflows, said the company. This holistic visibility empowers everyone within an organisation to make data-driven decisions and improve the bottom line, it added.
"We know that data is essential in today's environment to drive better business outcomes – whether that's lowering emissions, preventing accidents, or automating workflows. Empowering the people within your organisation with the right digital tools is critical to achieving these outcomes," explained Jeff Hausman, chief product officer at Samsara. "All of our announcements made today are reshaping this worker experience for customers and enabling them to achieve meaningful digital transformation of physical operations, now."