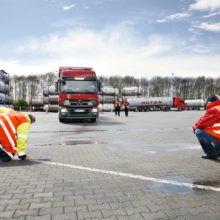 Professional drivers demonstrated their skills in various disciplines on the HOYER works site in Dormagen. In addition to showing their driving competence, the drivers had to master an obstacle course, answer questions on road law and rest period regulations, and display an optimally economical and eco-friendly driving style. Another exercise was to couple and decouple a trailer. A safety harness and roll simulator also helped to convince visitors and drivers at the event of the importance of seat belts.
During a gala event the winner of the competition was announced by Ortwin Nast, chairman of the managing board of HOYER. With its regular "Driver of the Year" driver event, HOYER encourages greater awareness of safety and other qualities on the road amongst its drivers.
This way HOYER hopes to make an important contribution to general safety on the road – well over and above statutory regulations.