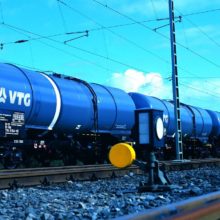 "The certification by the Federal Railway Authority verifies that the system of quality and safety management we have long had in place meets the increased requirements," stated Joachim Wirtgen, head of Safety and Maintenance Systems at VTG. "Our aim is now to meet the even stricter requirements of a new European directive."
Until 1 July 2007, private freight wagon keepers with wagons in use on the railways of Deutsche Bahn had to maintain their wagons according to the latter's rules. Only then could freight wagons be placed in service nationally and internationally without restriction. The obligation to organise proper maintenance has since passed to the wagon keeper. To ensure minimum standards of safety, a certification process for the Entity in Charge of Maintenance has also been introduced. This is currently on a voluntary basis, supported by a Memorandum of Understanding, with a mandatory set of European rules to be introduced in future. From 1 June 2013, every freight wagon will have to be maintained by an ECM that has successfully undergone the required certification process.
In a pilot study, VTG and the Federal Railway Authority gathered initial basic experience for the future certification process. In addition to a range of different management processes, they also addressed and appraised a large number of technical issues. To meet the requirements of the Federal Railway Authority, VTG has created a new manual for maintenance management based on the existing quality management manual. This new manual clearly sets out all processes.