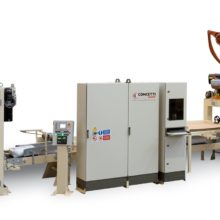 Producing masterbatch is a complicated and technically demanding business characterised by a wide product range and short job runs. Great emphasis is placed on cleanliness and avoiding the smallest trace of cross contamination between products and colours. All of which presents unique challenges to manufacturers of bagging equipment.
The bagging line comprises a gravity fed gross weigher featuring a brushless-motor driven dosing gate, an 'FFS-E' bagging machine that forms, fills and seals bags made from a reel of tube-stock material with corner sealing and a device to vacuumise the bags partially, and a Concetti PS-4A turn arm robot palletiser, for a capacity of approximately 300 bags per hour. The palletiser can pick from two pallet sizes and place a paper sheet over the pallet. With two pallet build stations, it can also handle bags from a second, manual filling line.
Pack size is normally 25kg and the film reel is either plain co-extruded film, or aluminium foil with the Constab logo only. Product specific data is put on the filled bag by a print and apply label applicator.
However, the real innovation is in the supervisory management system, which Concetti designed after collaboration with Constab engineering staff. The result is a powerful management tool that allows centralised control of the line, giving flexibility while avoiding the need to enter repeatedly bagging and palletising parameters each time one of the many different products is packed, so eliminating the risk of operator set-up errors.