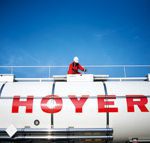 Earnings before tax amounted to EUR 32.6m (2011: EUR 37.3m). The return on sales of 3.2 percent (2011: 3.6 percent) was above average for the sector and substantiates Hoyer's good performance. The equity ratio rose to 40 percent.
The segments of business in which Hoyer is active have shown widely varying trends. Thus sales from overseas activities could be increased by ten percent over the previous year. The quantity of transports also moved ahead of the 2011 level.
Sales by the company's European chemicals logistics business grew by three percent. Again, the number of shipments increased slightly compared with the previous year, thanks to new business and despite the negative effects of the recession in Europe. This was due particularly to the contribution of European intermodal shipments, which is one of Hoyer's core competencies. The Supply Chain Solutions (SCS) division, which develops complex logistics solutions for Hoyer's customers far beyond pure transport, also moved ahead. Sales in the petroleum logistics business (supply of gas stations and transport of bitumen) rose by one percent against the previous year. Sales in the liquid foodstuffs and industrial gases logistics businesses on the other hand dropped in the past fiscal year. The primary reason for this was due to the highly price-aggressive competitive environment.
In 2012 Hoyer invested more than EUR 65m in the expansion of the company – markedly more than in the previous year (around EUR 40m). The fleets of tank, gas and intermediate bulk containers and tanker trailers were enlarged. However the focus was on strategic investments and, in this context, Hoyer purchased a majority stake in the Turkish forwarder Aktifsped, amongst other acquisitions.
The company continued to expand its network in other major international growth markets in 2012: Hoyer signed a cooperation agreement, for instance, with the Arab railroad enterprise Etihad Rail of Abu Dhabi for the transport of liquid products in the United Arab Emirates (UAE). Hoyer also concluded an agreement with Russia's leading logistics group FESCO, covering operation of intermodal transports in the country.