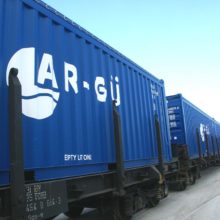 The agreement was signed in the presence of North Rhine-Westphalia Minister of Transport Michael Groschek, underlining the importance of the co-operation for the industrial and logistics location North Rhine-Westphalia.
"The bridge between Duisburg and Turkey highlights the importance that duisport's logistic activities have in our globalised world," said Groschek. "The new, efficient connection between Istanbul and Duisburg paves the way for a wide variety of development and growth opportunities for shippers in North Rhine-Westphalia."
One of the first projects under the joint venture will focus on the development and operation of a more than 200,000 sqm large multimodal logistics area near Istanbul. This area is located in the vicinity of the Gebze industrial district. Plans include the construction of a bimodal terminal and the marketing of the premises to production and logistics companies. Constructions will start in 2016. Total investments are in the high double-digit million range.
"Turkey is one of the main growth markets for the industrial and logistics value chain. With the Arkas Group, we have gained a strong and multinational partner that ideally complements our own network. By bundling our know-how, we are able to realize significant added value potentials in the region and further optimize the transport chains of our customers," emphasises Erich Staake, CEO of Duisburger Hafen AG.
Lucien Arkas, Arkas Holding chairman added that up to now the logistics group has always invested by trying to foresee and meet the sector's needs. "By 2023 the railway's share in the freight transport of Turkey's foreign trade is expected to reach 15 percent," he said. "In order to achieve these objectives, the focus should be on increasing logistics and rail capabilities which is why we are speeding up our investments. The intermodal logistics terminal at Izmit Kartepe, which will be the first within our duisport joint venture, will become a real hub once the Marmaray tunnel will start to be used for freight transport and also when the Baku-Tbilisi-Kars rail link will become operational. Cargo will move between Asia and Europe, Europe and the Balkans and also the Central Asian (CIS) countries. Since the terminal will be rail-linked it is also very important that the regulations to liberalize the railways are completed as soon as possible."