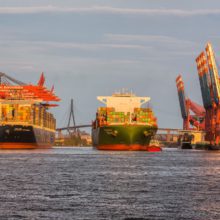 At 1.9 million TEU, Hamburg's total seaborne loaded-container throughput for the first quarter of 2017 rose by 0.04 percent. Throughput of empty containers dropped by 4.9 percent to 307,000 TEU. "Despite the persisting non-implementation of the dredging of the fairway of the Lower and Outer Elbe, cargo still finds its way via Hamburg. We find that while the number of loaded containers has risen slightly, handling of empty containers has declined. By contrast with the globally coordinated transport chains for boxes stuffed with import or export cargoes, empty containers are less linked to specific ports and routing is therefore more volatile," explained Ingo Egloff, Joint CEO of Port of Hamburg Marketing. On the main trade routes, Hamburg's container traffic with Europe was up by 0.6 percent at 663,000 TEU, with the Americas by 6.4 percent at 311,000 TEU and with Australia/Pacific by 19.9 percent at 13,000 TEU. With totals 5.5 and 3.0 percent lower at 70,000 TEU and at 1.2 million TEU, respectively, the Africa and Asia trade routes did not match the previous year's results. A total of 637,000 TEU, down by 2.0 percent, was handled in container traffic with China, Hamburg's most significant trading partner. However, single- and double-digit growth in container traffic with top-ten trading partners – Russia, up 15.6 percent at 120,000 TEU the USA, up 5.5 percent at 89,000 TEU, Malaysia, 0.4 percent to 76,000 TEU, the United Kingdom, up 2.8 percent at 66,000 and Sweden, up 4.0 percent at 66,000 TEU – did not suffice to offset this in the total. "Among our Top Three trading partners, China, Russia and the USA, only the first reported a slight downturn on the previous year. In the first quarter of 2017 we saw a continuation of the stabilization already commencing in the final quarter of last year. We are also assuming that with foreign trade still growing, container traffic with China may develop positively in the course of this year," said Egloff. Along with Russia, still subject to restrictions on its foreign trade under the existing sanctions, the Baltic countries also take a significant proportion of goods from China, or export them there, via Hamburg. At 76,000 TEU, they achieved a 28.2 percent advance. "Twofold handling, from the seagoing ship to the feeder and vice versa, means that a resumption of growth in transhipment services with the Baltic region produces rapid increases in volume for Hamburg," explained Egloff.


In container shipping, the first quarter was notable for consolidation, preparations by shipping companies for the new alliances and hopes of a recovery in the market. With over 100 liner services, the Port of Hamburg remains well positioned. In container traffic, it will also be called by ten Asia services of the new THE and OCEAN alliances, along with two run by 2M. High freight volumes mean that on the Asia services, shipping companies are increasingly deploying mega-ships. In the first quarter of 2017 there was a renewed increase in the number of calls by these. The total of 74 containerships with slot capacities of more than 14,000 TEU berthing in Hamburg was up by 61.0 percent. To simplify passing of mega-ships and traffic flow on the Elbe, the dredging of the Elbe to a great extent approved by the Federal Administrative Court on 9 February 2017, will be of the greatest importance for the port. In the opinion of the court and the planning institutions responsible, the planning deficiencies it had established in documenting increased salt water content affecting the Schierlings water fennel, documentation of compensatory measures in Lower Saxony, and the rejection of one compensatory measure in Hamburg territory, can all be remedied.
Record figure on bulk cargo handling
One outstanding feature of the first quarter of 2017 was the record figure for bulk cargo throughput. 'Hamburg does not just do containers. At 12.2 million tons, throughput of suction, grab and liquid cargoes achieved 6.7 percent growth. That made Hamburg the only North Range port to report growth in this segment, underling its position as a universal port for cargoes of all types," said Egloff. The main elements in the grand total were suction cargoes up 0.4 percent at 2.3 million tons, grab cargoes 18.0 percent ahead at 6.4 million tons, and liquid cargoes down 5.9 percent at 3.5 million tons. Increased handling of coal, coke and ores, as imports, and grain and oil products, as exports, also made a positive impact on the excellent trend in the first quarter.
Renewed growth in rail freight transported on Port of Hamburg's hinterland services
Around 11 percent of total German rail freight transport starts or ends in the Port of Hamburg. Offering 2000 container block train services per week, Hamburg is Europe's Rail Port No. 1. In the first quarter of 2017 there was again a positive trend in volume transported on the Port of Hamburg Railway, 0.4 percent higher at 11.6 million. Railborne container transport was also up by 0.4 percent at 587,000 TEU. On 23 March 2017 the starting signal was given for the 'Hamburg-NRWplus' cooperation project, aimed at boosting rail's share of freight transport. Primarily through Port of Hamburg Marketing's contacts on the market, the two states will promote greater use of rail for freight transport. The offer of new container block trains like the link between Warstein and Hamburg launched by Warsteiner Brewery at the beginning of the year, ensures greater transport capacity by rail and simplifies the switch of transport from truck to rail.