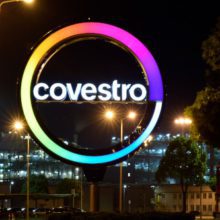 As of 1 January 2018, 24 employees started logistics operations in Shanghai under the management of Jeffrey Xu, Operations Manager SCS at HOYER. The range of services includes heating up ISO containers before they are unloaded, unloading raw materials and empty drums, loading palletized finished goods, and loading ISO containers with finished products. In addition, the services include the filling of intermediate bulk containers and various types of drums, storing and preparing raw materials for the laboratory and production as well as the handling of waste for collection.
The local management provides personnel depending on production requirements and on the basis of a five-day week with eight-hour working days through to a 24/7 service. "Due to our experience with Covestro and the handling of many different products, we were able to start up the service quickly and reliably", says Michelle Ding, Project Manager SCS Asia/Pacific at HOYER. "The existing MDI logistics division is our advantage and makes it possible for us to also react to short-term peaks in the filling of finished goods and to deploy appropriately trained personnel in both areas."
SCS has been working for Covestro in Shanghai since June 2016. The expansion of activities is based on a shared understanding of quality and safety as well as good cooperation over recent years. "We are content with our decision. HOYER proved to be a reliable partner for us, which is why we decided to intensify our working relation with them", says Wei Zhang, plant manager for PIC/PUD products at Covestro, resuming the first few months of the new collaboration. SCS maintains its successful trajectory and continues to drive expansion in China. The service portfolio of SCS includes on-site logistics, filling and mixing, terminal operations, dry bulk logistics and project development.