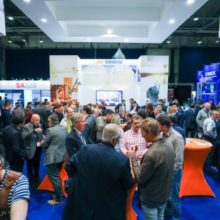 Just weeks after the 14th edition of StocExpo Europe came to a close in Rotterdam, work is in full swing to create next year's edition of the industry leading event for the bulk liquid storage sector.
'We are pleased to announce that the initiatives that were such a success in 2018 will all return in 2019 plus much more,' StocExpo & Tank Storage Divisional Director Nick Powell, explains. 'We are the market leading event in the bulk liquid storage sector and have been for over a decade, with visitor numbers increasing every year, but the event still has room to grow. With every new concept, we're working hard to attract visitors from all the major terminals and fulfil our aim of serving the tank storage community worldwide.'
Initiatives returning to StocExpo Europe in Rotterdam from 26-28th March 2019 include the complimentary EEMUA workshop, late night opening, complimentary iTanks Innovation in Storage sessions, the start-up zone and the Global Tank Storage Awards.
In 2018 The Engineering Equipment and Materials Users Association (EEMUA) ran a full day's workshop, which was free for all StocExpo Europe visitors. The workshop comprised of five sessions detailing procedures and techniques of maintaining tanks throughout their life to ensure safe product storage and efficiency of operation strategies within a tank storage environment. Following fantastic visitor feedback, this free content will return to the show floor in 2019 along with a free one-day workshop, debating various topics ranging from the future of robotics to sustainability within the tank storage industry by iTanks, a knowledge and innovation platform for the tank storage sector.
In 2018 a start-up zone was introduced allowing brand new companies to try out the event at a reduced entry price. Following its success, this will be back in 2019, designed to ensure the StocExpo Europe exhibition is at the forefront of the sector and showcasing the latest technologies, products & services across the tank storage industry.
The second edition of the Global Tank Storage Awards was a resounding success with many tables already sold for 2019. This year's sell-out gala dinner & ceremony attracted terminal operators from as far as Saudi Arabia, India, Malaysia, South Africa, the US and all across Europe. Attendees were treated to a drinks reception, a three-course meal, comedian, award-winning dancers, a casino and much more, allowing an exclusive opportunity to entertain clients & reward colleagues for their hard work throughout the year.
'The evening was a real success, with great food, drinks and entertainment, making the perfect setting to host our clients and network with the other companies represented there,' explains Darren Hughes, International Business Development Manager at Concrete Canvas, one of the sponsors at the 2018 event.
StocExpo Europe 2018 attracted nearly 3,000 visitors from 81 countries worldwide. Of these, 69% of visitors were CEO, director or senior managerial level, reflecting the high calibre of industry leaders that are attracted to the event. Participating companies include Shell, Vopak, VTTI, Rubis Terminal, Vesta Terminals, Odfjell Terminals, Oiltanking, Saudi Aramco, Stolthaven Terminals, Baltic Tank and Kinder Morgan among many others.
'We have already started on our comprehensive year-long marketing campaign for StocExpo Europe 2019,' Powell explains. 'The event may be 11 months away, but we have a dedicated team building global industry visitor data, creating industry leading content and devising new concepts to ensure we retain our position as the market leading event for the bulk liquid storage sector worldwide. Over the next year we will work closely with our loyal exhibitors to ensure they maximise their experience at the exhibition. Our goal is to ensure our exhibitors meet as many new customers as possible, re-connect with existing customers and raise their profile within the tank storage community.'
Following this year's StocExpo Europe, an independent market research company surveying visitors and exhibitors found that 92% visitors would consider attending again, 93% would recommend the event to others and 94% were satisfied with their experience at the conference & exhibition. Commenting on the success of the event, one attendee, Earl Crochet, Director of Engineering at Kinder Morgan commented: 'This is my second time attending StocExpo Europe and I enjoyed it even more than the first. The speakers were exceptional, both in content and delivery and the topics were very relevant to today's tank storage industry. I look forward to attending again!'
The 2019 conference programme will cover topics including digitisation at the terminal, innovations to improve safety, flexible business models to adapt to current market conditions, enforcing cybersecurity at the terminal and how to improve efficiency & profitability to counteract increasing market competition. StocExpo Europe will be returning to Ahoy, Rotterdam next year from 26-28 March 2019.