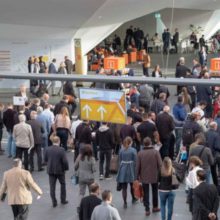 "I am impressed by the dynamism and creativity that we saw in the exhibition halls during the past three days," comments FachPack Exhibition Director Cornelia Fehlner. "It is clear that the packaging industry is in transition. In addition to challenges of a technical nature, the industry is especially interested in ways to find clever packaging solutions for complex requirements that will also serve the interests of both the environment and the consumer, while also keeping the entire product cycle in focus. In other words, the packaging of the future. This is what we will be concentrating on at FachPack 2019."
Exhibitors: 38 percent international
At the heart of this year's FachPack, once again, was the strongly performing German packaging industry, with 1,023 exhibitors. "Even so, there is a noticeable trend toward a greater European flavour," Fehlner observes happily. International exhibitors accounted for 38 percent of the total.
There was a strong presence from the neighbouring European countries, especially Italy, the Netherlands, Poland, Switzerland, the Czech Republic, Austria and Turkey. Ninety-eight percent of visitors were happy with the products and services on offer at FachPack, according to survey results from an independent institute.
Industry professionals: 90 percent decision-makers
Trade visitors came mainly from the food and beverage, pharmaceutical and medical technology, cosmetics, chemical and automotive industries. Some ninety percent of the trade visitors said they were involved in making the purchasing and procurement decisions in their respective businesses. About half of the trade visitors held senior positions, and as many as one in five were from management.
Save the date!
The next FachPack will take place in the Exhibition Centre Nuremberg from 24 to 26 September 2019.