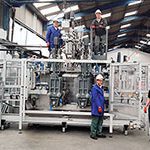 Delivering up to 30 percent less energy consumption than older generation machines, the blow moulder is designed to offer significantly higher productivity levels. The new equipment will be used to manufacture Greif's plastic jerrycan range and is expected to increase capacity by up to 25 percent for its one to five liter bottles for the lubricants market.
Equipped with built in safety features and a state of the art automatic weight control system the new machine is designed to optimize and reduce raw material usage.
"This investment guarantees supply to our customers as we experience continuing high demand for our blow moulded bottles. It demonstrates our ongoing commitment to improving customer service and driving down cost", said Abdennour El Mosor, Regional Manager MENA Greif. "It also reflects Greif's commitment to minimizing its carbon footprint."
Greif's Casablanca plant produces jerrycans of up to 25 liters capacity. It also manufactures steel drums. It serves the lubricants, chemicals and agro-food industries.