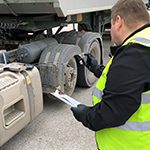 With so much on their plate, including managing seemingly endless red tape and day-to-day issues around operating their fleet, there's not enough time in the day, or week, or year to sort everything out. Some things will inevitably get left behind.
Which is why Blackpool, UK fuel security specialists TISS, has rolled out a fuel tank inspection service with the premise of checking the health and security of the entire fuel tank, from filler neck to drain plug and all points in between, to make sure no irregularities are found.
Think of it as an MoT for the fuel tank – with a few added extras.
"Time after time, the fuel tank is one of the few areas which gets left out of the weekly checks by mechanics at a depot," explains TISS' technical director, Richard Forster. "Fleet engineers tell us that it's unlikely fuel tanks will be inspected unless an issue has been raised. However, the fuel tank could be a potential reason why a truck is deemed unroadworthy if stopped by an official.
"We have spoken to a number of fleet operators who are unaware of the neglect of the fuel tank and the vulnerability it presents to theft and spillages. The results from initial inspections have been very surprising.
"77 percent of the fuel tanks our technicians inspected were classed as failing for various reasons – including damaged fuel caps or broken chains, damaged or missing anti-siphon, brimmed tanks, missing spill flaps – a number we never expected to be so high."
Testing last year at the sites of a number of fleet operators for TISS' latest device, the TankSafe 'Optimum', proved to be the catalyst for the introduction of the fuel tank inspection service.
Forster added: "The first fuel tank we inspected had a broken filler cap and some damage to the filler neck which could indicate tampering or a driver just being heavy-handed when replacing the cap.
"The second fuel tank had the OEM supplied spill flap removed, whilst others had anti-siphon devices fitted to the tank that were missing their bases, which indicated a likelihood of fuel being stolen.
"These observations became a recurring theme the more tanks we viewed. If an anti-siphon is fitted and a cursory look shows the cap is fitted correctly, then it would be fair to assume all is secure. It is only when you remove the cap and see the base of an anti-siphon has been broken, or in some cases the anti-siphon removed entirely, that you would realise the entire tank remains completely open to fuel loss.
"Fleets frequently tell us that skimming is the single biggest issue when it comes to loss of fuel. They add that it is virtually impossible to detect as the small quantities (around 20+ litres) that are taken are easily masked within the accepted MPG variances of the truck."
As well as broken caps, chains, damaged filler necks, broken or missing spill flaps, smashed or broken anti-siphons, there has also been tampering evident in the sender units – often unprotected – and the drain plugs, all places often left by regular fleet inspections.
After a TISS inspection has taken place, a report is compiled using photos of the inspection, plus a detailed look at each fuel tank, marking down the technician's expert opinion of the tank. It's based on a traffic light scenario; green for pass, amber for advisory and red for fail. The report is then sent to the customer for their own purposes.
"The purpose of our inspection is simple," says TISS CEO Ryan Wholey. "To provide the fleet operator or engineer with a report on the health of their fuel tanks. There's no obligation to do any of our recommendations at all once they have the report in their hands. It simply states whether each tank has passed, any advisory notes to consider, and whether the technicians deem any tanks to have failed and the reasons for this. How the operator chooses to respond to this report is entirely down to them.
"The industry has evolved since TISS first introduced its TankSafe products onto the market almost two decades ago. Fleet Owners tell us that they are typically working on very tight margins, especially when it comes to fuel prices, therefore any opportunity to protect or improve their profitability is an important consideration.
"We are not pointing fingers as often fuel loss can be attributed to a number of factors, not just theft – therefore we rolled out the fuel tank inspection.
"A couple of hours spent inspecting a percentage of the fleet can identify opportunities for positive action to generate savings on fuel bills. We believe it's one of the most important reports a decision-maker should have on their desks when they are considering the safety and security of their fuel."
www.tissltd.com