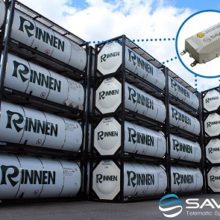 Measuring temperatures directly inside the tank
Wanting to provide the highest possible degree of shipment safety to its customers, even for products with a narrow temperature range, Rinnen chose Savvy Telematic Systems.
"We have developed a device that measures the temperature inside the tank", explains Bernhard Weiland, key account manager for the Swiss telematics provider. "A replaceable thermowell with a PT 1000 sensor is inserted into the tank from the top. The sensor is only separated from the liquid by the tube fitting, thereby providing exact measurements."

The sensor is connected to the Savvy Sense Gateway-ExR, an ATEX-certified telematics unit installed on the top of the container. The Gateway device communicates via radio with the CargoTrac base unit. The unit sends data to the Savvy Synergy Enterprise Portal. The web-based platform enables the Rinnen fleet management team to maintain an overview of all transport variables such as current location, temperature, pressure, and container fill level at all times.
Realistic ETAs
"Every 15 minutes, the Cargo-Trac units on the tank containers send out their GPS position to the Synergy Portal, which then calculates the current ETA. This way we can provide our customers with current data when they need to plan their delivery, regardless of whether the containers are located on our trucks or are being shipped with one of our freight partners," explains Oliver Brucks, head of vehicle fleet management at Rinnen.
Exact measurement values for highest safety levels
In a mutual pilot project, Rinnen and Savvy are developing an algorithm which generates a robust value under consideration of different factors in order to reliably calculate fill levels. With this method Rinnen wants to further increase transport safety. Thanks to the telematic data, the forwarding company has transport statuses constantly under control. If the data deviates from the target values, the software automatically sends alarm notifications to enable drivers and fleet managers to respond immediately. Drivers are connected per tablet with the Synergy Portal, while the managing clerks have access per web-browser on their desktop PC. The alarms can be configured so that designated persons receive email notifications and that others are notified when the first group of people cannot be reached.
Collaboration platform creates transparency
"Our customers need a comprehensive and precise overview of the status of their shipments at all times", says Oliver Brucks. "We can now meet these expectations even better. Both with regard to temperature as well as ETA we have been able to significantly improve precision and data accessibility thanks to Savvy." In this context, the Synergy Portal serves as a collaboration platform.