Within one generation, this company – founded by Jo van Moer – has grown from a single truck operator into a large, leading logistics company. Branches throughout Belgium and also Germany are managed from the head office at Antwerp Linkeroever.
The head office was built about 15 years ago. At this site adjacent to the port of Antwerp, a major cleaning facility was erected, consisting of numerous cleaning bays and technical buildings.
With the increasing professionalisation of the Van Moer group, the call for modernisation and upgrading of the 15-year-old cleaning facility grew louder. In Autumn 2020, Gröninger Cleaning Systems was awarded the project to bring the complete tank cleaning facility up to maximum operational standards. Together with Van Moer's technical team, a plan was made to modernise everything while guaranteeing productivity during the works.
The works were completed at the beginning of 2022 and the result is quite impressive. Eight cleaning bays have been built onsite. Two separately operating pump rooms ensure a system that works as a whole and at the same instance offers optimal redundancy.
Many 'sustainability' elements have been integrated in the design and an air purification system is placed as well. Products with odorous substances can be cleaned too. Latexes and resins are handled on a special track, and the system is operated with an ultra-modern, remotely supported control system. Both process and management data are made available via the cloud.
Van Loon acquisition
For its part Van Moer has completed the acquisition of tank container specialist Group Van Loon.
Van Loon runs depots on both banks of the River Scheldt specialising in transport, cleaning, repair and storage of tank containers. The company employs 130 people and turned over €20 million in 2021.
Van Moer says the acquisition fits with the firm's strategy to expand and refine its offer for the chemical sector. After adding the Van Loon installations, Van Moer will carry out an average of 300 cleanings and 275 repairs a day.
Jo Van Moer, founder and CEO, of Van Moer Logistics, said: "In recent years we have invested in the renewal and expansion of our SEVESO site in Zwijndrecht. With the arrival of the new filling lines and ADR halls, we are now expanding our services for the chemical sector. Thanks to the acquisition of Group Van Loon, we are also doubling our capacity in bulk and tank container logistics."
At Van Moer's Zwijndrecht location, the firm offers transport, storage, heating, filling, cleaning, checking and repair of tank containers. The group says this saves customers both transport costs and surcharges for traversing the Liefkenshoek tunnel.
Gunther Van Loon, CEO of Group Van Loon, added: "The family shareholders see Van Moer Logistics as a reliable party that also has the necessary credibility and resources to continue our work. Also for our employees there are now additional growth possibilities and opportunities.
"We have paid much attention to that 'cultural match' where Van Moer Logistics shares the same values and attaches great importance to a flat organisational structure, open culture, flexibility and lasting relationships with all stakeholders."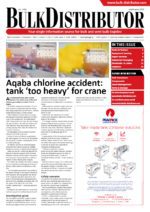 This article originally appeared in the July/August 2022 issue of Bulk Distributor.
view magazine