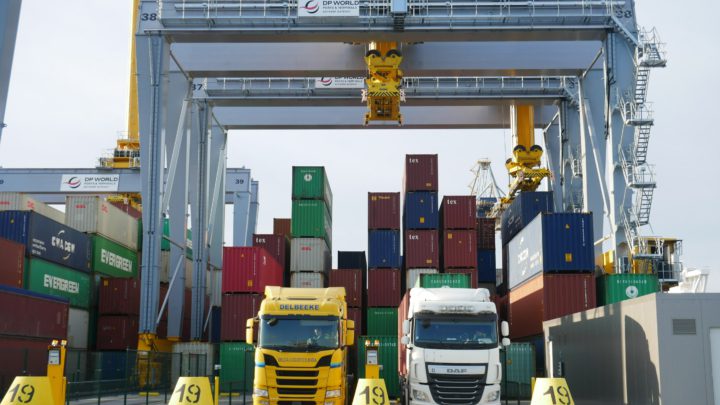 In collaboration with NxtPort, the digital platform of Port of Antwerp-Bruges, DP World, the global trade enabler, has successfully tested the Certified Pick up (CPu) software with Belgium logistics companies Katoen Natie and Van Moer and will be implementing the technology across its Antwerp Gateway terminal.
By introducing CPu, DP World is boosting the safety of container transport by removing outdated processes for identification and pick-up. Developed in response to the port community's safety concerns, CPu pre-registers and vets truck drivers through NxtPort and allows them to collect containers at the DP World terminal by matching the driver's fingerprints to their specific container via the container's Alfapass.
Traditionally, containers at a terminal are accessed by inputting a pin code, which risks multi-party handling and exposing containers to misuse.
First successful pick up
The first containers were successfully collected last week, and this innovative technology will be required for all transporters in due course.
Dirk Van den Bosch, CEO DP World in Antwerp, said: "The aim of the improvements we make to our terminal is always to ensure that we are servicing our customers and communities efficiently and safely, which means the smooth introduction of the latest innovative technology. By making our terminal processes, and in particular the collection of containers, more secure, we are living our values of social responsibility.
"The success of our pilot project with Van Moer and Katoen Natie is the first step towards further rolling out CPu with all stakeholders and for all modes of transport in 2023. We are hopeful that the industry will see the benefits of increased security at container terminals and introduce this technology throughout the entire logistics chain."
Increased security across terminals
Antwerp Gateway is also adapting its systems to pick up containers by barge and train via CPu.
Koen Breemersch, acting CEO NxtPort, said: "In recent months we have worked intensively with DP World, among others, to finalise and test the latest APIs for Certified Pick up. In addition, we are also looking at the implementation of CPU for the collection of containers via barges and trains. It is crucial that as many parties as possible get onboarded from now on so that we are able to deliver on the promise of increased security across terminals."