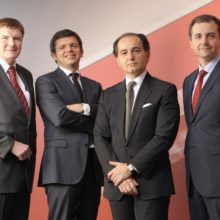 As a result, the Norbert Dentressangle Executive Board will consist of:
–  Hervé Montjotin, CEO
–  Patrick Bataillard, CFO
–  Luis Angel Gomez, managing director Transport Division
–  Malcolm Wilson, managing director Logistics Division
Commenting on the new appointments, Norbert Dentressangle's CEO, Hervé Montjotin said: "The new composition of the Norbert Dentressangle Executive Board reflects the truly international dimension of the Group. Two very experienced managers join our board, who have already proven their worth at Norbert Dentressangle.
"Malcolm Wilson has considerable experience of managing logistics operations in the UK, where he is highly respected in this sector. Malcolm successfully developed the logistics activities acquired from Christian Salvesen and integrated those obtained from TDG, thus making the division a market leader in the UK. Malcolm also has major international experience, which will be invaluable for the future of our Logistics Division and the Group as a whole.
"Luis Angel Gomez gained a sound experience of transport at our Spanish subsidiary Norbert Dentressangle Gerposa, which he has successfully headed since 2008. He has demonstrated his qualities as a manager during exceptionally difficult market conditions on the Iberian Peninsula, by ensuring high levels of operational performance, maintaining a growth dynamic and successfully integrating several business activities, particularly with the acquisition of TDG. I am proud to lead this team, which is made up of personalities that will be able to work together effectively, in order to ensure that Norbert Dentressangle continues to develop."