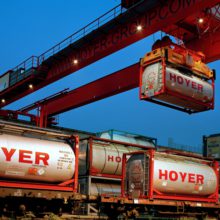 This major contract is of strategic significance for Hoyer: Huntsman has chosen to work with the market leaders in isocyanates and polyol transport.
In addition to its widespread European presence, the decisive factors in Hoyer's favour in winning the contract were its expertise in intermodal transport and the sustainable characteristics of its lightweight, modern equipment in cutting down on CO2 emissions.
Hoyer will be operating bulk transport from the Netherlands mainly to Ukraine, Russia, the Baltic states, Scandinavia, France, Great Britain and to Italy. The Italian branch will be serving production plants in France, Spain and Portugal. It will be ringing the changes between road haulage, goods rail and ship transport, for Huntsman regards the ecological slant of its new logistics provider as of prime importance.
The polyurethane (PU) will mainly be transported by Hoyer in tank containers in liquid form, which makes it much easier to deploy intermodal transport.
Recipient companies transform the PU for example into foam for insulating fridges and for house-building, for foamed automobile instrument panels or for wood bonding glues.
The contract with Huntsman runs initially for three years.