Fresh fruit is the latest addition to the range of products transported by the Hamburg liquid cargo specialist Liquid Concept. Its insulated tank trailers will be shipping the fruit within Europe, especially products intended for further processing.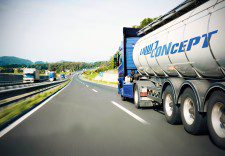 The facility is aimed at producers and end-users of fresh fruit destined for additional processing. Liquid Concept expects healthy demand, particularly from the fruit processing industry, such as manufacturers of preserves and juices.
Initially, 40 tank trailers with a capacity of up to 35,000 litres each will be deployed on European routes. To ensure that the perishable cargo is protected against adverse temperature effects, the insulated tanks are temperature controlled. Transport by tank trailer is especially suitable for fruits such as cherries, strawberries, apricots, raspberries and red or black currants.