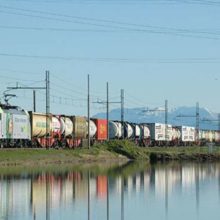 Initially running five times a week, the Shuttlewise service is a partnership with the French Novatrans, which operates seven shuttles from Dourges.
The shuttle runs on the trimodal Delta 3 terminal in Dourges; which this month officially joined InlandLinks, the online platform for container terminals in the hinterland with intermodal (rail and/or inland shipping) services to and from Rotterdam. The network now includes more than 80 terminals in the Netherlands, Belgium, Germany, Poland, France, Hungary, Austria and Italy. In Dourges, the Shuttlewise train also connects to the Greenmodal service to Marseille.
Martijn Elbers, General Manager of Shuttlewise, said: "Dourges offers a direct connection to all corners of France via the seven Novatrans shuttles and the Greenmodal service to Marseille. Ultimately, we want to extend the service, with a mix of continental, short sea and maritime cargo, to Spain as well.
"For France, we unlock an efficient connection to many short sea and other destinations via Rotterdam."
Peter ten Broek, Business Manager at the Port of Rotterdam Authority, said: "In recent months, we have seen many extensions to Germany, Italy, Austria and Poland. Shuttlewise has allowed us to further expand our connections to Southern Europe."
The shuttle will carry a very diverse mix of cargo: continental and, most definitely, maritime. Elbers added: "Now that the PortShuttle is operational, it provides an ideal connection between the deep sea terminals and Rail Center Rotterdam, the terminal for our trains."
President of Delta 3 Christophe Pilch stated: "This new connection with the port of Rotterdam strengthens the role of Delta 3 in Dourges as a multimodal and logistics platform in northern France."