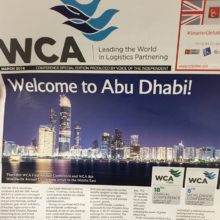 The seven-day event, which took place 10-16 March 2016 in Abu Dhabi in the UAE, was attended by 2,585 members, representing 1,358 companies from over 100 countries.
Dan March, WCA's new Chief Executive Officer, said of the restructured schedule, bringing together the 18th Annual and 8th Worldwide Conference: "The new format of a combined plenary session, one-on-one meetings and gala awards dinner has been a great success. Not only does this allow us to reduce the conference duration by a day – saving all delegates time and money – but it also provides even more interaction and business opportunities for attendees of both conferences."
Important member benefit announcements were made during the plenary session, including the formal launch of Consol2Xchange, the network's new consolidation exchange platform where members can search, negotiate, sell and purchase consols online.
Additionally, WIN – a platform that, traditionally, cost members to connect with agents, brokers and carriers – is now exclusively free for members through to the end of this year.
WCA also announced a new initiative to help members become proactive leaders armed for a future in e-commerce logistics. David Yokeum, who will head up WCA's newly formed Supervisory Board as Chairman, said: "By 2020 it is projected that freight forwarding will be 20 per cent e-commerce driven. Therefore, we feel compelled to become heavily involved and are working hard to develop e-commerce tools for our members."
WCA is the world's largest and most powerful network of independent freight forwarders, with over 6,056 member offices in 186 countries worldwide.