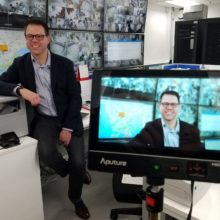 Announcing the new company's launch in Hong Kong and the simultaneous opening of its North American headquarters, CEO Matt Motsick said, "We are Swivel by name and fully flexible and adaptive by nature. Years of experience in supplying software tools to international supply chain operators has made us very familiar with the true needs of forwarders and logistics service providers. Providing detailed and real-time information for their customers; achieving reliable connectivity with branch and agency offices; uniting operational and financial data on one platform and all for a level of investment commensurate with a SME's budget. At Swivel we plan to empower digital logistics for this sector of the market enabling it to better service the growing needs of an e-commerce environment."
Mak, who has built a portfolio of customers across Asia over the last twenty years, including names like Air Sea Worldwide, Hankyu-Hanshin and Electrolux, commented on the logistics industry's need to digitalize. "There is currently a big technology lag. Other sectors are advancing in web-based software, API's (Application Programming Interface), artificial intelligence, and blockchain technology. The global supply chain needs to adopt these tools to the e-commerce age and forwarders in particular, need to connect digitally. They must communicate more efficiently with their partners, agents and customers in order to service current trends in e-commerce and dynamic sourcing patterns."
The Asian pedigree of the Swivel suite of products, with Mandarin and Cantonese options, will help significantly in integrating data from source locations and organizations across Asia with the freight's import markets destinations. Swivel's five primary products are:
Swivel 360 which creates complete visibility of all supply chain activity including tracking, exception reporting, performance indicators via a so-called 'logistics control tower'. Of crucial management importance to C-level executives in forwarder and BCO organizations this 360 view also acts as middleware to enhance connectivity with other applications.
Swivel ERP is a full operations system allowing freight forwarders/NVOCCs to prepare shipments, book cargo and uniquely integrate accounting data from each branch office or agent.
Swivel PRM is a purchase order management system tracks orders from factory door to ultimate delivery point at SKU level: status alerts, inventory flow and delivery schedules are all included.
Swivel E-commerce responds to the fastest segment of logistics, SWIVEL E-commerce allows freight forwarders to help their clients manage product flow from the time at which a purchase is made online; fully integrated where necessary with the other SWIVEL products and through API to any pre-existing bespoke applications.
Swivel WMS inventory management system allows complete control of stocks at SKU level throughout multiple warehouses globally.
Motsick concludes with an interesting analogy for current supply chain management software products, "There seems to be many new software companies that present their systems as smooth and easy, similar to a dog swimming in a lake," he observes. "But beneath the surface there is frantic activity to keep the animal afloat. At Swivel we aim to calm the beast and have it reach the bank with minimal effort."