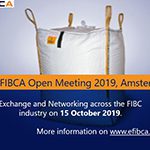 Don't miss the opportunity for discussion and networking across the FIBC industry as well as informative expert talks on a broad range of topics relevant to the FIBC community.
The preliminary agenda is as follows:
EFIBCA Open Meeting Programme, 15 October 2019

09:00 – 10:30: Registration with welcome coffee

10:30 – 12:30: Presentations on polyolefin and polyolefin textile markets/trends and impact of additives

12:30 – 13:30: Lunch Break

13:30 – 16:30: Presentations on the planned FIBC workshop, Circular Economy and Ecodesign
For participants who will arrive the day before on October 14, you are welcome to join the EFIBCA Social Event and Dinner from 18:00 – 23:00.
The Social Event starts with an aperitif on a boat trip through the canals of Amsterdam and continues with dinner in a typical Dutch restaurant located on Prinsengracht in the Jordaan District in an historic canal house.
Exclusive for EFIBCA members: Invitation to the Annual General Meeting on 14 October 2019 from 14.00 – 16.30.

Click here for more Information
The Open Meeting registration fee is €300 per person and €150 for EFIBCA Members. Included in the charge are a meeting dossier, refreshments, buffet lunch and drinks. The cost for participation in the EFIBCA Social Event and Dinner is €100 per person and €50 for EFIBCA members.
Register now! Registration deadline is 30th August