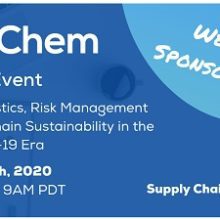 This year has seen the most aggressive supply chain disruption the chemical industry has ever had to content with due to the global pandemic and worldwide lockdown. Learning fast and smart has been an imperative as regions and states across the world reopen for business.
Learn about the biggest lessons and achievements chemical companies have and still are experiencing and how the pandemic has affected supply chain and logistics processes.
Although taking place virtually, chemical supply chain leaders from top companies in the industry will be addressing topical themes. As well as how industry supply chain leaders are using digitalisation strategies to recover and ramp up lost business momentum, other topics include:
Lessons Learned During the Covid-19 Pandemic
Containerized Ocean Transportation in 2020
How Digitalization is Tied to Sustainability and Social Responsibility
Achieving Competitive Differentiation
Partnerships and Relationship Management
In-House vs. 3PL/4PL Outsourcing
Speakers for the virtual summit include:
Albert Schyman, Director Global Logistics Procurement, GCP Applied Technologies
Paresh Bhagwatkar, Head of Supply Chain & Digital Transformation, Petrochemicals, Reliance Industries Ltd.
Christine Van Burkelo-Roach, Director of Supply Chain Management, Toray – Composite Materials America
Lori Fellmer, Vice President of Logistics and Carrier Management, BassTech International
Bret Bement, Supply Chain Director, PetroChemicals, BASF
Lisa Entrekin, Logistics and Operations Systems Manager, Ascend Performance Material
Luiz Barberini, Operations Manager – External Manufacturing Latin America, Bayer
Siva Narayanan, Director, International Operations & Warehousing, Solvay
Interactive live chat and Q&As will help attendees connect with peers and have real time conversations.
To partake in this virtual event, or to gain access to the event 'On-Demand' to watch at a later date, sign up here.