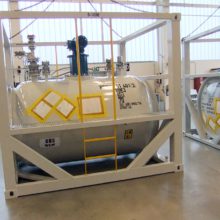 WEW's solution involved building a robust 5,000 litre tank inside an ISO style frame and fitting it with a specialist agitator.
"WEW worked closely with us in designing the solution for transporting the catalyst. It was very much a partnership between the two companies which has resulted in a tank fit for purpose," said Gaston Garayzar, from Dow Chemicals.
Dr Ulrich Bernhardt, managing director of WEW, added: "Dow quite rightly demanded a very high level quality transport solution which met or exceeded international transport requirements. Our deep experience enabled us to provide the company with a solution to meet its requirement."
The 5cbm units have been designed to meet ATEX requirements fully. WEW worked closely with its suppliers to source the right agitators and valves before integrating the components into the tank manufactured at the company's facility in Weitefeld, Germany.