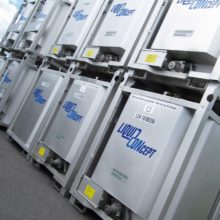 These heated and fully insulated containers boast a volume of 1,000 litres and are used predominantly to ship temperature-controlled foodstuffs, such as chocolate, caramel paste and edible oils. However, they can also be used to store liquid products.
The container specifications can be tailored to individual customer requirements. As a result, the company offers its customers a systematic focus on their needs and develops logistics solutions that harness state-of-the-art technology.
Seventy-five percent of the 185 new containers are already leased to customers. The remaining 25 percent are being kept in reserve, enabling the company to respond quickly and flexibly to customer needs. First and foremost, food producers use the IBCs for the transport and storage of liquid substances, with the small units used wherever tank containers or tank trucks cannot be deployed.