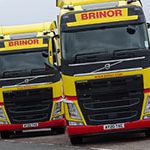 The freight business has a strong, established relationship with the Swedish manufacturer, having bought Volvo trucks for the best part of four decades. Brinor placed this latest order to modernise its fleet to help meet the new Direct Vision Standards (DVS) and Low-Emission Zones (LEZ) that will come into force later in 2020.
Supplied by Volvo Truck and Bus Centre East Anglia's transport solutions executive, John Culling, the three 500hp 6×2 FHs and the FH with I-Save join a 20-strong fleet, made up predominantly of Volvos.
Gill Thomas, fleet manager, says: "We are Volvo through and through and they were the only manufacturer we considered for this order. We have a long, pre-existing relationship with the sales team, and we have never been disappointed with the quality of the trucks or the level of service we receive. This order was placed with the new DVS and LEZ targets in mind. We do quite a lot of work delivering into the areas where they will be enforced, so we need to make sure we have trucks on the fleet that meet the standards and allow us to continue to deliver for our customers.
"We are also looking forward to seeing what miles per gallon figures they will give us, especially the FH with I-Save, which we have heard quite a lot about."
Working out of the company's new warehousing facility situated next to Felixstowe docks, the trucks will be in operation five days a week – carrying shipping containers straight from the docks to destinations all around the UK. The FHs' Globetrotter sleeper cab comes with single bed resting package and driving plus package for added comfort on long haul runs. "These Volvos will likely cover around 120,000km per year," says Thomas. "The drivers are all thrilled with their new trucks. The upgrade is great for them, so we're pleased they're happy."