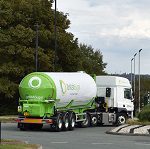 Abbey Logistics began working with British Sugar in 2016. Since then, the two companies have adopted a 'one team' approach with Abbey becoming an extension of British Sugar's logistics team. Together they have successfully delivered several high-profile projects which focused on customer service, management information, reducing cost per tonne, safety and a significant reduction in empty miles.
As a result of this close collaboration, British Sugar has improved its ability to provide sugar to their customers across the U.K. in a much more reliable, cost effective and flexible way.
In addition to improved customer service, the environmental impact of the operation has been reduced through improved and more dynamic real-time planning, significant fleet investment in newer more efficient vehicles and trailers, and closer collaboration with customers to deliver the optimum service at times to suit them.
British Sugar's unique position of supplying the U.K. market without the need to import through deep sea shipping is more effective for many UK manufacturers, thanks to the shorter lead times and reduced carbon footprint that comes from sourcing raw materials from within the UK.
As the sole processor of the UK's beet sugar crop, British Sugar is the leading producer of sugar for the British and Irish food and beverage markets, processing around eight million tonnes of sugar beet that produces around 1.4 million tonnes of sugar each year. This amounts to more than 350 bulk tanker deliveries per week for Abbey Logistics to manage, feeding the supply chains of major food and beverage manufacturers.
Sugar demand from customers can often be unpredictable, so a flexible transport operation is vital in ensuring their manufacturing processes remain in operation. Abbey Logistics' ability to provide a transport operation tailored to this market, combined with sugar that is produced in the UK and available quickly, both ensure British Sugar's customers can provide a stable and predictable service to their own customers.
Stewart Dickson, logistics contracts manager, British Sugar said:
"We knew from previous hauliers that the KPIs we set Abbey Logistics were challenging, but we also knew that by adopting the right approach and working closely with us, they were achievable.
"Our business is unique and never predictable and for Abbey to succeed they needed to work alongside us to understand our customer profile and the characteristics of our sector.
"We're delighted that they did just that. From day one their contract team began building relationships with my team, and spending time to understand as much as they could about our business.
"It certainly paid off as their delivery on time performance demonstrates, and on top of that we have seen multiple projects and initiatives that ultimately makes British Sugar more competitive and able to provide a better service to our customers."
Mike Ellis, Abbey Logistics' business development director said:

"The success of the two teams working together demonstrates the importance of a collaborative approach to transport operations of this scale and proves how effective working in partnership can be in delivering on objectives and providing the best possible service to customers.
"We are delighted to be continuing this partnership with British Sugar and we look forward to many more successes in the future."