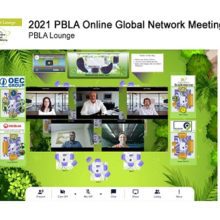 The response from its global membership was all the more satisfying given the time restraints of logistics operators currently, and not to mention the 'zoom fatigue' experienced by many. The PBLA is proud to have hosted 50 PBLA members and sponsors representing 40 countries.
By popular demand, the meeting schedule was open 24 hours a day for the full 3 days allowing existing and new members plus sponsors and guest applicants, from the 17 different time zones involved, to connect and continue strengthening their global presence within the largest bulk liquids alliance in the world.
PBLA members and sponsors engaged in 600 individual pre-booked meetings with each other.
In addition to these meetings, attendees had the privilege of participating 2 hours a day, accommodating for different times zones, in a more informal gathering in the PBLA social lounge where they could meet amongst themselves and visit and talk to sponsors and partners such as:
Bulk Distributor (PBLA media partner)
com, which operates the 1st B2B Global Digital Platform exclusively serving the Bulk Container Packaging Industry, with its suppliers.
OEC Liquid Logistics Solutions – main event sponsor and founding member in the USA
VEOLIA – leading global waste management company with which we were able to discuss and lay the foundations for a road map on recovery and recycling of flexitanks and accessories around the world. This is now paramount to ensure PBLA sustainability goals are achieved in order to lead the way in setting circular economy standards in our specific industry.
PBLA president Jason Wright said: "Once again, we succeeded in bringing our existing and new members closer together within the PBLA family of bulk liquid specialists that now cover over 50 countries, making us the largest liquid logistics network in the world. The collaborative and dedicated culture of these bulk liquid professionals has been continuously nurtured to ensure momentum is maintained throughout the pandemic and we are thrilled with the commitment shown by members. All our participants congratulated us on the user-friendly meeting platform used and I couldn't ask for much more in these testing times."
The PBLA has come a long way since it started nearly 3 years ago with the aim of uniting hidden champions in the bulk liquid logistics industry empowering them to become global players in the international market in a fast-growing sector like the flexitank and isotank industry. The union of these in-house experts around the world is what gives this unique Alliance its strength and service offering.
The PBLA is now planning its next physical network meeting for the 1st quarter of 2022. Meanwhile, PBLA plans to host member and partner workshops to push forward on its sustainability and recycling processes to lead the way in this domain.
It has also just opened up an associate membership offering for bulk liquid commodity traders, brokers, and distributors so that these players can obtain competitive services and offers for shipping their bulk liquid products with its members.