Peacock Container has purchased 10 31,000 litre tank containers made of composite material, becoming the first leasing company to offer these lightweight tanks which are manufactured by Tankwell in The Netherlands.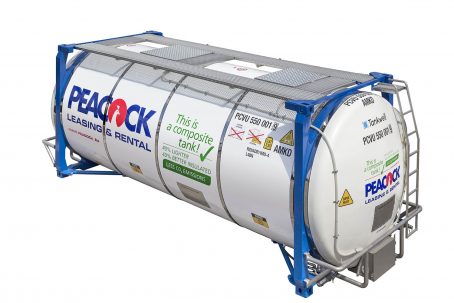 Previous customers have been operators such as Den Hartogh and Hoyer.
The composite swap body tanks are 25-40 percent lighter compared with conventional stainless steel tanks. The tare weight of a 31,000 litre tank is only 2,250 kg, resulting in an increased payload and fewer movements.
"In line with market developments the tanks are equipped with stainless steel valves and all the latest safety features like full walkways, a handrail and a ground operated airline," said Jesse Vermeijden, managing director of Peacock. "These composite swap bodies fit very well in our strategy to offer a wide assortment of specialised ISO tanks to our customers. And to be specific, we also see in our market the search for CO2 reduction."